Father David Kay
Vicar: 10th May 1985 to 15th September 1987

OUR FAREWELL
[Transcribed from a booklet, "His Message - Our Farewell", the profits from which were divided equally between St. Anne's Church, Sale and USPG.]
St. Anne, Parish Eucharist, 20 September 1987
Sermon preached by Canon Desmond Probets,
Vicar of Christ Church, Timperley
"And Mary fell at His feet and said, 'Lord, if you had been here my brother would not have died.'."
John 11.32
These words of Mary, also spoken earlier by her sister Martha, are part of the moving story in John of the death of Lazarus. I have read these words many times; I have heard them read many times; but never have they hit me with such poignancy as this week. When the news of the tragic death of David was given to me, like you, I was deeply shocked and appalled. Then, into my mind came these words and into them I poured, as Mary and Martha must have done, all the resentment, anger and frustration I was feeling; all the 'if onlys' and all the 'whys?'; the whole gamut of emotion I went through as you must have, too. Jesus loved his friends - Lazarus was the brother of Martha and Mary, but he must have been like a brother for Jesus - loved, valued, special - and no wonder Jesus wept. Our tears for David are the response of our love, our appreciation, our relationship with a brother in Jesus. David was such a kind, caring and conscientious man - a priest blessed with those Jesus-signs of loving, leading and sacrifice.
I first knew him at Latchford and at once took to him. He captured my heart by his discipleship, discipline and devotion and then, as I came to know him better, by his genuineness in love and loyalty.
At Blacon he worked indefatigably in a demanding parish and gave himself unstintingly across the range of pastoral cares and concerns. This demanding spell had a serious effect upon his health. It was, therefore, with special relief and renewed hope that David received the call to St. Anne's. I recall the day he phoned me to say he'd been asked to consider the presentation, and I was able to tell him about you and press him to accept. From the start you recognised in David a truly parish priest and I know that he has gained your love; I'm sure carving a special place in your hearts. To us, his fellow clergy, he was indeed a dear brother.
These last months have been truly difficult - he was so sensitive about his illness and sensitive about his duties and responsibilities as the Vicar - efforts were made to reassure him, but such was his commitment and conscientiousness, he could not grasp this - which proved so detrimental to his condition.
Your understanding, concern and care has been indeed outstanding - not least the support of Moira and the Staff. I know how much he valued you. None of us can really appreciate the anguish and darkness he experienced - the despair he felt, the need for relief and release that he sought. I know that he asks our forgiveness for all the pain, the hurt, the grief he has brought upon us, and I forgive him and ask his forgiveness for my failure towards him. Jesus wept. So do we. But through my tears I look up and see Jesus; Jesus who said 'I am the resurrection and the life'; Jesus, who raised Lazarus from death to life. Jesus, David's Lord, your Lord, my Lord, who for certain has lifted David out of the darkness and confinements of his illness-tomb and embraced him with the light and love of His eternal presence. David's final earthly word to us is 'Pray for me'. We do and shall continue to do so and our prayer will be that he will be in peace and glory but that prayer, too, will be our thanksgiving, our gratitude for his generous Ministry, for his loving friendship.
When David left Latchford he was given as a mark of appreciation and affection, a song. I shall not sing it but share it with you because it sums up what I feel and I believe what you feel too.
Thank you for being our spiritual father
Thank you for the times we've shared
Thank you for every loving kindness You and we have shared.
Thank you for your work and patience
Thank you for showing us the way
Thank you for the spiritual guidance You've shown day by day.
Thank you for all your blessings
Thank you for your every prayer
Thank you for the precious moments We have had to share.
Blessings on your new tomorrow
Blessings that we send with you
Blessings that we hope will always Be in your heart too.
St. Francis, Family Eucharist, 20 September 1987
Sermon preached by Philip Martyn,
Reader, St. Anne's
We come to this Eucharist in a state of shock - almost of unbelief - that David, our Vicar, should have been taken from us arid taken in such a way.
If we are wise, however, our first reaction will not be one of sorrow for him or for ourselves. Our first reaction will be to recall to mind those words of the Lord Jesus Christ in today's Gospel: 'Give back to God what belongs to God'. Why is this? Because if we give back to God the things which belong to Him we shall begin by giving to Him our worship. In a word we do not begin by thinking of ourselves - or even of David - we fix our eyes, we concentrate our thinking, on Almighty God, High and Lifted up - the Father of our Lord Jesus Christ.
As we think on Him we are lost in wonder, love and praise. Yes, wonder, love and praise for all that He is; for all that He has shown up of Himself in the Lord Jesus Christ; for all that He gives us and all men in Creation, in Salvation on the Cross, in forgiveness, in the Power for living the new life with Him and in Him - Resurrection Life.
It is from this standpoint - and only from this standpoint - that we are able to face, together, the shattering news of David's death - the loss that the Church, we ourselves, have suffered - the realisation that never again will we rejoice in his gracious presence or listen to his sermons or draw inspiration from his very real awareness of the presence of his Lord in the Eucharist or benefit from his enthusiasm for the re-ordering of St. Anne's to the greater glory of God.
As we confess that we do not understand what has happened, it is from the standpoint of worship that we are encouraged in Hope. Yes - encouraged, for we remember that Almighty God - High and Lifted up - is yet our Father, the one who forgives, the one who understands all things, the one who is plenteous in mercy and truth.
We remember, too, those words of the Lord Jesus: 'Come unto Me all ye who are heavy laden and I will give you rest'. Words that have always applied to David and apply to him now in full measure. Words that apply to us as we face the future together. And, as we face the future we do well to remind ourselves of the truth that 'It is through pain, not through pleasure, that we grow'. True for the Lord Jesus, the Man of Sorrows and acquainted with grief. True for us as we follow the Crucified. This means that these verses will have a message for us:
I walked a mile with Pleasure,
She chattered all the way.
But left me ne'er the wiser
For all she had to say.

I walked a mile with Sorrow
And ne'er a word said she
But oh, the things I learned from her
When sorrow walked with me.
So we give back to God what belongs to God.
But we cannot stop there. We have to come to terms with that other command in today's Gospel: 'Give back to Caesar what belongs to Caesar'.
In other words we remember that worship is bound up with the way we live. Our worship is acceptable only if it is an expression of a good life! Here is a challenge indeed for each one of us! That challenge can be summed up like this:
Isn't it strange that Princes and Kings
And clowns that caper in sawdust rings
And ordinary folk like you and me
Are builders of eternity?

To each is given a bag of nails,
An hour glass and a book of rules
And each must build, e're his time, is flown
A stumbling block or a stepping stone.
Thank God for the stepping stones that David built in this place and in our lives. May it never be said of us: 'They built stumbling blocks ..... not stepping stones'.
St. Anne's, Evensong Sermon, 20 September 1987
Preached by The Ven. John Gaisford,
Archdeacon of Macclesfield
We are all familiar with the Gospel story of the Transfiguration. Peter, James and John seeing Jesus transfigured on the mountain as he talked with God the Father in glory. And we know the sequel - the descent from the mountain to find the other disciples powerless and bewildered amongst a crowd of people. They had tried to heal a dumb demoniac - and failed. The two incidents are side-by-side in the Gospels - deliberately. And they reflect so much our experience of life even today. The heights and the depths of life.
Only three months ago to this very day, I had the privilege of preaching at your Festival Eucharist following the beautiful re-ordering of this church. It was a splendid occasion - a very happy occasion - and my wife and I had lunch in the Vicarage and came away thinking what a marvellous experience it had all been - a marvellous day.
And now, three months later, I share with you and the Bishop of Stockport - and the Diocesan Bishop - in your sense of shock, and sorrow, and distress, and bewilderment. We all experience these emotions and we are united together in our grief and sense of loss.
When a member of the family dies, the family often discover a new sense of unity. They are bonded together by their joint feeling of grief. We feel the same sense of unity because we are all one family - the family of God in this parish and Diocese. And we lost not just one member, but the central member of that Christian family in this place – your parish priest, the father under God of this family. It is not strange then, but understandable, that we all share that grief. We are one family in Christ. And it is vital to remember this truth - that we are one family in Christ.
Because it is Christ who unites us; it is in Christ that we are baptized; it is our membership of His Body, the Church, which gives us this identity and this unity. Above all it is our belief in Christ as the Saviour that undergirds all that we say and do, in Church and in our lives.
Jesus is our Saviour. Remember those words of Jesus, "I am the Resurrection and the Life". He spoke them, we are told by St. John, to Martha who mourned the death of her brother, Lazarus. He spoke them to reassure her - and countless Christians since - that He has the power to overcome death and to give eternal life. He went on to say, "He who believes in me, though he die yet shall he live, and whoever lives and believes in me shall not die eternally". And He demonstrated this power in raising Lazarus from the tomb.
But more important, more significant that raising Lazarus, was our Lord's own death and Resurrection. In raising Lazarus, Jesus restored one man to life; in rising from the dead after the Crucifixion Jesus enables all men to be restored to eternal life. His death was for all - His Resurrection was for all. As Paul reminds us – "As in Adam all die, so also in Christ shall all be made alive". And he goes on to spell this out in that magnificent 15th Chapter of his First Epistle to the Corinthians – "The first man, Adam, became a living being, the last Adam became a life-giving spirit". And further, "Just as we have borne the image of the man of dust, we shall also bear the image of the man of heaven".
Christ's Resurrection is good news for all - for all who accept His gospel and believe in Him.
Jesus is the Resurrection and the Life - he has conquered death and given man the hope and promise of eternal life. As Paul says, "Death is swallowed up in victory" - the victory of our Lord Jesus Christ.
Now this we all know; this we all believe; this is why we are Christians - and why we are here tonight.
But it doesn't remove our grief; it doesn't deny our sorrow and loss; it doesn't make a pretence of our bewilderment - they all still exist - and naturally so. We are human beings. We have lost someone we love, someone we admire, someone we respect, someone who has cared for us in circumstances exactly like this - in our bereavement and loss; someone who has ministered to us in sickness or in the joy of baptism; someone who has united us in marriage or restored us in penance; someone from whose hands we have received the precious Sacrament of Holy Communion. No wonder we feel these emotions - and no wonder we are bewildered.
A close priest friend of mine died of cancer - we experienced grief and loss, but we understood, we think, what was happening.
Another friend, a bishop, the previous Bishop of Stockport, died suddenly of a heart attack. We experienced grief and loss - but we understood, we think, what had happened.
A parishioner, when I was at St. Andrew's, died suddenly of an aortic embolism - the walls of an aorta split and his life blood poured away in seconds. We experienced grief and loss - but we understood, we think, what had happened.
I am no doctor; medicine is not my field, but as a parish priest for almost 27 years, I know as many of you know, that much mental illness, breakdown, may have a chemical, physical, electrical cause. We do not understand it - not yet - we cannot explain it - not yet. But we know that such illnesses affecting the mind can be as destructive as cancer or a coronary - and we have to accept them, even in our bewilderment and distress. We may not be able to explain it, but we can approach it with compassion and sympathy and love - and trust in the healing, the eternally healing power of our Lord Jesus Christ - and our faith in the Resurrection.
That faith may not remove our grief - but it will enable us to bear it with hope; that faith may not remove our pain but it will enable us to bear it with courage; it may not dispel our bewilderment but it will enable us to come to terms with it. Above all, that faith will serve to unite us together as members of this family; and will enable us to bear one another's burdens and so fulfil the law of Christ.
Jesus said, "I am the Resurrection and the Life" - our Christian hope. And in that hope we pray David Kay may rest in peace - and rise to eternal life with his Lord and Saviour, and that we may be sustained and healed in our grief and loss.
(After the Service the body of Fr. David Kay was received into Church by the Rt. Rev. Prank Sargeant, Bishop of Stockport, and the Ven. John Gaisford, Archdeacon of Macclesfield.)
St. Anne's, Requiem Mass, 21 September 1987
Sermon preached by The Rt. Rev. Frank Sargeant,
Bishop of Stockport
'Love ... is the one thing which still stands when all else has fallen.'
1. Cor. 13.8
Our grief at the death of Fr. David Kay is a mixture of emotions - of profound sadness, frustration, bewilderment and even anger, but I hope that this morning we shall be able to overcome them with our feeling of affection for him and for his mother, Mrs. Edna Kay, his brother and sister and other loved ones. There is no doubt that affection for him has been shown during his illness; affection has been demonstrated by the large number who attended the service last night and those who are present this morning. The affection, like David, is catholic, coming from all places and all types, all ages, but especially from the parishes where he served in Liverpool, and in this Diocese at Latchford, Blacon and at St. Anne's, Sale, and I hope that this affection which has been demonstrated for David will be some comfort to his family and friends as they mourn the tragedy of his death.
David was a gentle man. A man of deep spirituality and love of our Lord and His Church, a totally dedicated parish priest. That was his vocation, and his total dedication to his Parish, and his parishioners was both his strength and his weakness. Those who benefited from his care, priestly and pastoral, will know that it was the best. When he embarked with the good people of St. Anne's upon the re-ordering scheme in the Church he could only be satisfied with the best for God, and how right that is; so when he found it hard to say his prayers and to do what he cared to do in looking after his parishioners, or being in the Church School which he treasured, he had this tremendous feeling of failure. He said on more than one occasion 'There is nothing else I can do', meaning other than be a parish priest. The pain of his depression was too much - but God knows and understands when pain is too great to bear. His love still stands when all else has fallen; and so does our love, weak though it is in comparison with His. The promise of Jesus in the Gospel which I read must be grasped 'The one who comes to me I will never turn away'. That word speaks not of our worthiness, or even of our persistance but of the boundless mercy of Him to whom we come and who David approaches.
When we are aware of our failure, our weakness, our guilt, the promise of Jesus still remains; the promise is 'I will in no wise cast out. I will never turn away'. Jesus gives words of life; He is the bread of life; He is the light by which we grow; He is the true life from here to eternity because Jesus reveals to us what God is really like and those moving to Him will never be turned away. To grasp that is to know something of the love which still stands when all else has fallen. So our prayer must be that Fr. David in God's love may now know that He is valued and that he is forgiven and that he has the peace which he was unable to find recently in this life.
I do think that the Love which stands when all else has fallen must make us ask questions about the care we show to others in the Diocesan family of the Church. Part of our grief is that although we consider ourselves to be a loving community, still we were not able to support David at the point of his own perceived and deeply felt weakness. David would not want anyone to feel responsible, and certainly no one could have done more than Moira Garnett as Churchwarden – truly a Bishop's officer, or the Rural Dean, Fr. Canon Desmond Probets, or Fr. John Roskilly; but there is something wrong with the system which allows a priest to burn himself out by the mid-forties for whatever reason. Florence Nightingale once said 'Out of suffering may come a cure. Better have pain than paralysis'. If we, meaning myself and those who are responsible for the pastoral care of our priests, feel that pain then maybe we can find a cure. We must not allow our grief to paralyse us - but to move us into finding better care and solutions to the problems.
It was said of Christopher Wren 'if you would see his memorial look around' - meaning look round St. Paul's Cathedral. It can be said of Fr. David Kay 'if you would see his memorial, look around St. Anne's, Sale today'. Does he leave a loving community - family, parishes, Diocese with the hallmarks of patience, humility, good manners, kindness and tolerance? Pray God he does.
We are reminded by the context of this service of the Holy Eucharist that it is a thanksgiving for the death and Resurrection of Jesus - for us and for our salvation. We pray with confidence that David has entered into his Christian inheritance of the love of God which is enduring through death and eternal through life - the life that is the one thing that stands when all else has fallen. The love we are invited to share for our comfort, but also required to reflect for God's glory.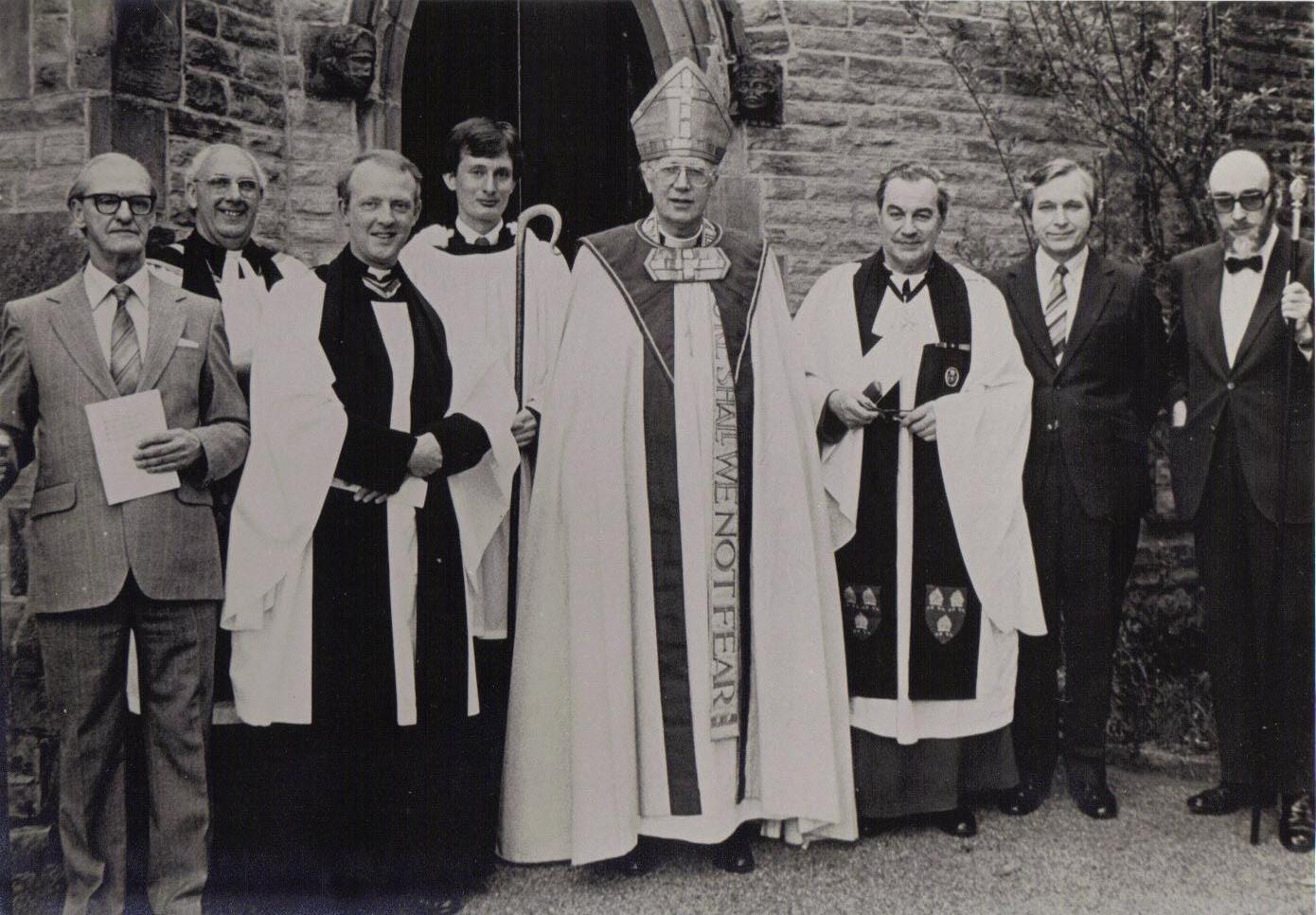 From the Bishop of Chester (The Rt. Revd. Michael A. Baughen)
Read at the 10am Service on Sunday

17th September 1987
My very dear Brothers and Sisters in Christ at St Anne's and St Francis.
I wish I could be with you this morning, but I was already committed to St Thomas Stockport at the same time as your service.
I feel so deeply for you all in the pain, shock and sadness of Father David Kay's death. He was doing so well amongst you and the progress in church life and buildings was so good, that the suddeness of his loss is a paralysing blow.
You must not feel guilt. You really did care for him and pray for him. Thank you for your welcome and love for him.
Depression is an overwhelming state to be in as Elijah knew only too well after his success on Mount Carmel. Fr David had given himself to St Anne's with such energy that it seems he became exhausted, just as Elijah did. The tragic loss of his life is only explicable in terms of the disturbing effect of depression in disturbing his mind.
I thank God with you for Fr David's life and ministry. He was a man who deeply loved his Lord and wanted always to be the best for Him. He loved others and was loved by others. He was a priest closely in communion with his Lord and Saviour. In our very deep sadness let us also thank God for Fr David Kay's life.
In these next months hold fast to Christ. Take forward the mission of the Church. Deepen your care and love for one another.
Pray for those of us who urgently seek another Incumbent for you, that God's way may be opened soon.
My heart goes out to you all in the love of Christ. My prayers are with you.
God's grace hold you and lead you on,
Yours in the Risen Lord
from Whose love nothing can separate us,
+ Michael